The swirled concrete finish is a variation of the traditional broomed finish. Using a trowel or float our concrete contractors make a swirled imprint or arc across the surface of the wet concrete. The finished result is a subtle pattern that adds more visual interest than an ordinary broomed finish. But just like the broomed finish, a swirled concrete finish is very slip-resistant.
At Captain Concrete we like using the swirled finish in combination with other finishes such as aggregate concrete and stamped concrete. There are endless designs achieved through variation in the border and center.
Swirled concrete costs depend on your color choice and can be similar to a little more than exposed aggregate concrete. Call 604-302-0020 for a detailed price for your project. 
Here are some samples of swirled concrete finishes used in recent projects in Abbotsford and throughout the Fraser Valley:
Swirled concrete landing pad for backyard.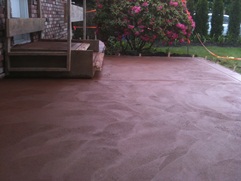 Colored swirled concrete adds textural interest.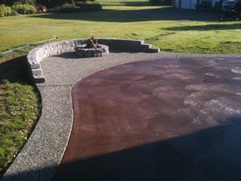 Colored swirled concrete with firepit and retaining wall.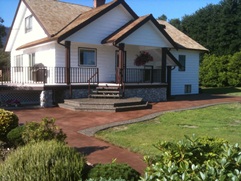 Colored swirled concrete used for front walkway.
There are many more types of finishes to choose from to make your concrete project unique. For additional concrete finish options:
Call 604-302-0020
Complete our Online Contact Form