OUR PROCESS
At Captain Concrete we pride ourselves in handling all residential and commercial concrete requirements from start to finish. From demolition to grading, forming, placing, finishing and sealing, we are the only company you will need to deal with. Our local suppliers allow us to provide you with quick, efficient, and reasonably priced materials delivered consistently and on time.
Our concrete services book up quickly, particularly in Spring and Summer months. If you are thinking of having your concrete driveway refinished or want to pour a new concrete patio contact us as soon as possible to get a free quote and reserve your job.
Our competitive rates and great testimonials make us the only call you need to make! Call 604-302-0020 or fill out our website contact form.
What Our Clients Say About Our Concrete Services

"I wish to take this opportunity to congratulate you for a job well done!!! You and your employees (Casey, Don, John and Mark) have been very easy to get along with while working on my home project and have provided me with an excellent finished product. Even the subcontractors that were used in the works were as professional and courteous as your employees were. The final cleanup before leaving the site was very well taken care of.

I hope that others will take note and contact you whenever they need concrete removal, forming, placing and finishing works. Thanks again for a project completed in a professional like manner."

~ R VB, Mission
Our concrete contractors are always in high demand and our schedule books up quickly, especially through the Spring and Summer seasons. If you are needing our concrete services please contact us as soon as possible to get a free quote and reserve your job.
We also provide concrete services to agricultural, commercial, and municipal sites.
Here is a breakdown of how we approach each concrete project and what you can expect from Captain Concrete's services.
Concrete Design and Drawings
We help design concrete plans and permits while staying within budget.
Our customers come to us with various levels of knowledge when it comes to concrete. If you do not know what you want or need, we will help with the design, drawings, and permits (if required). Our customers appreciate our knowledge and expertise in recommending the best concrete finish for each application all while making the most of their budget.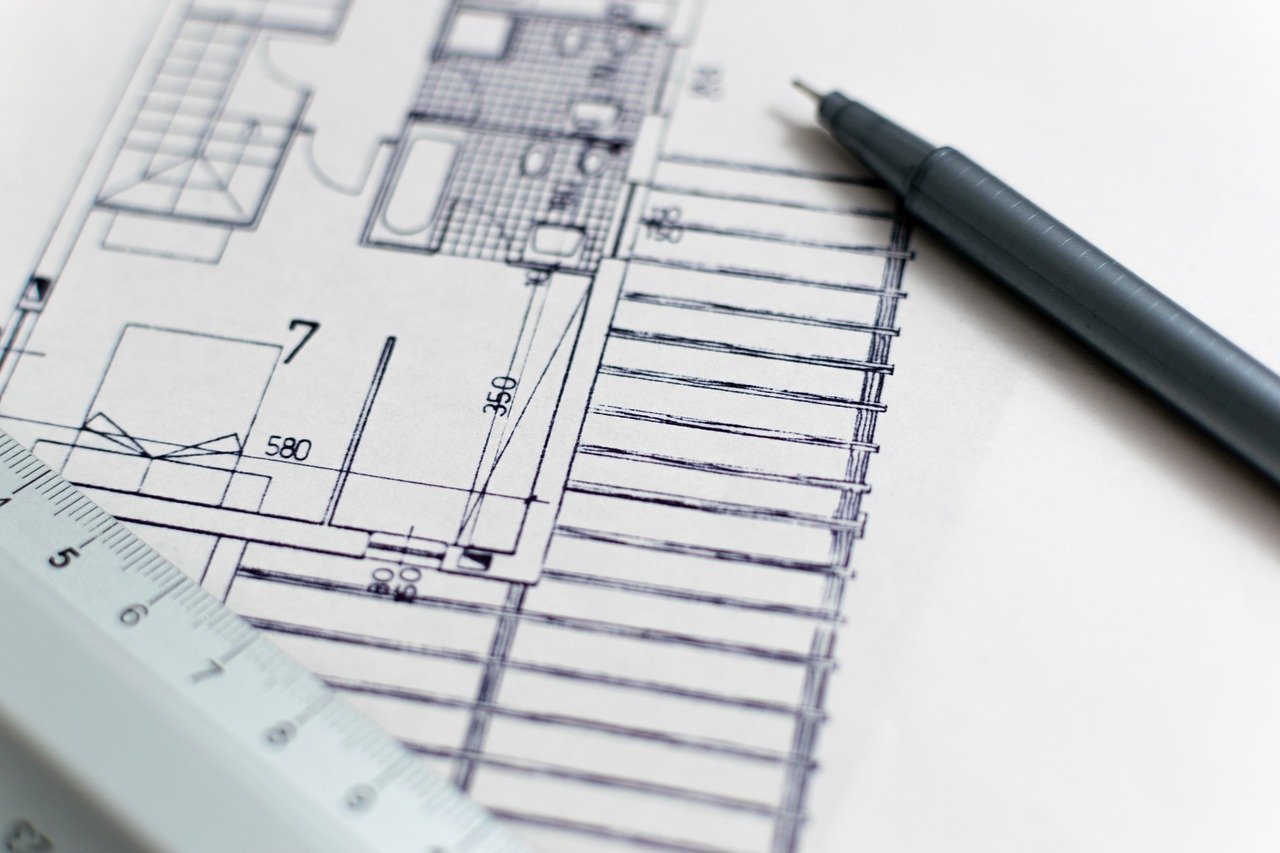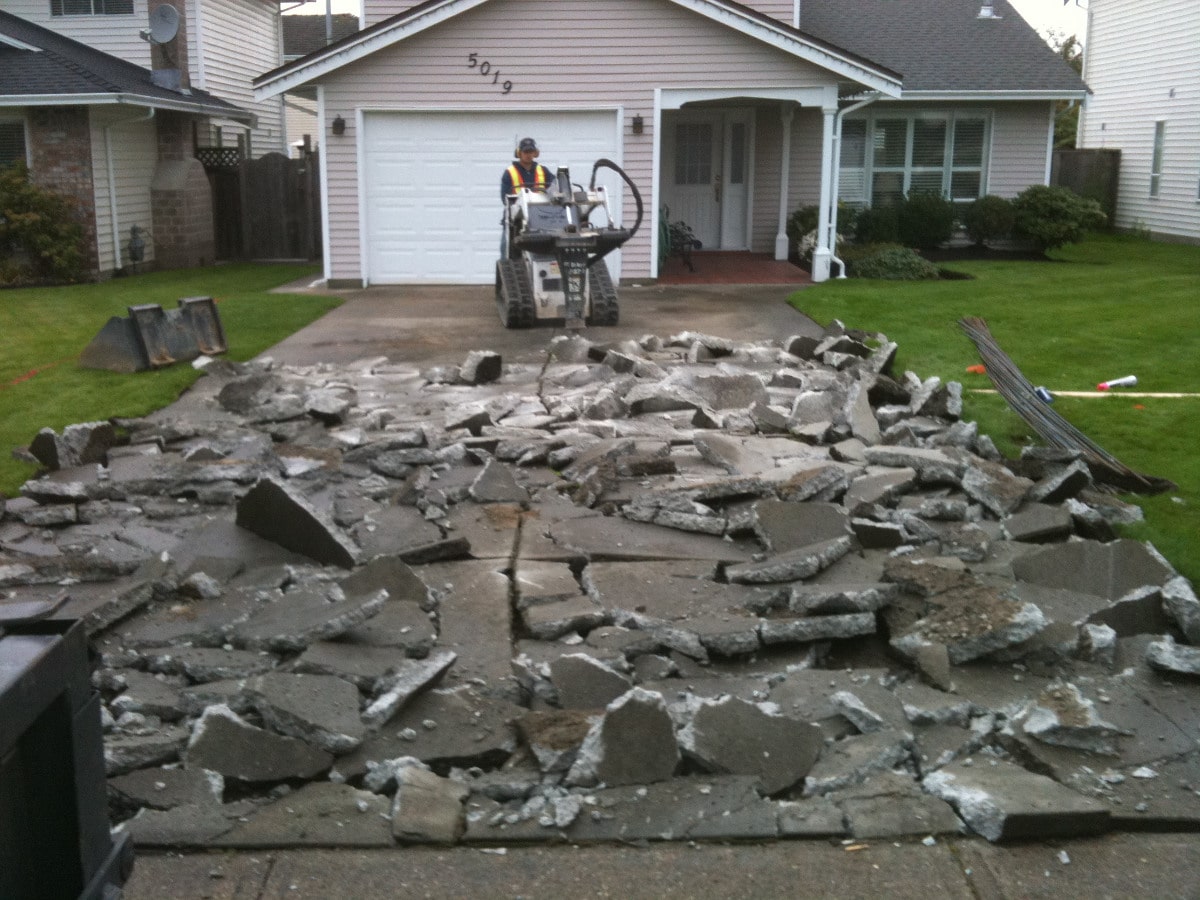 Demolition
We demolish and remove all old and existing concrete!
We have a selection of tools and machines to handle most demolition required for preparation of pouring new concrete. Tools include sledge-hammers, jack hammers, and hydraulic breakers for mini-bobcats. We have a mini-hoe for very small and tight spaces like backyards and a large bobcat for large areas such as parking lots. Our small bobcat is only 36″ wide to squeeze through tight spaces like gates or doors to get access into back yards. We also get rid of your old concrete! We have a dump trailer to handle smaller projects and pull in large dump bins for larger areas.
Prep Work for Pouring Concrete
We properly grade, level, and compact in preparation for pouring concrete.
We have the machines, tools, and compactors or grading, leveling, compacting of gravel base in preparation for forming and concrete placing as well as an experienced crew to handle most forming needs. Concrete preparation is an extremely important step in the process that needs proper attention in order to have concrete that does not crack or sink.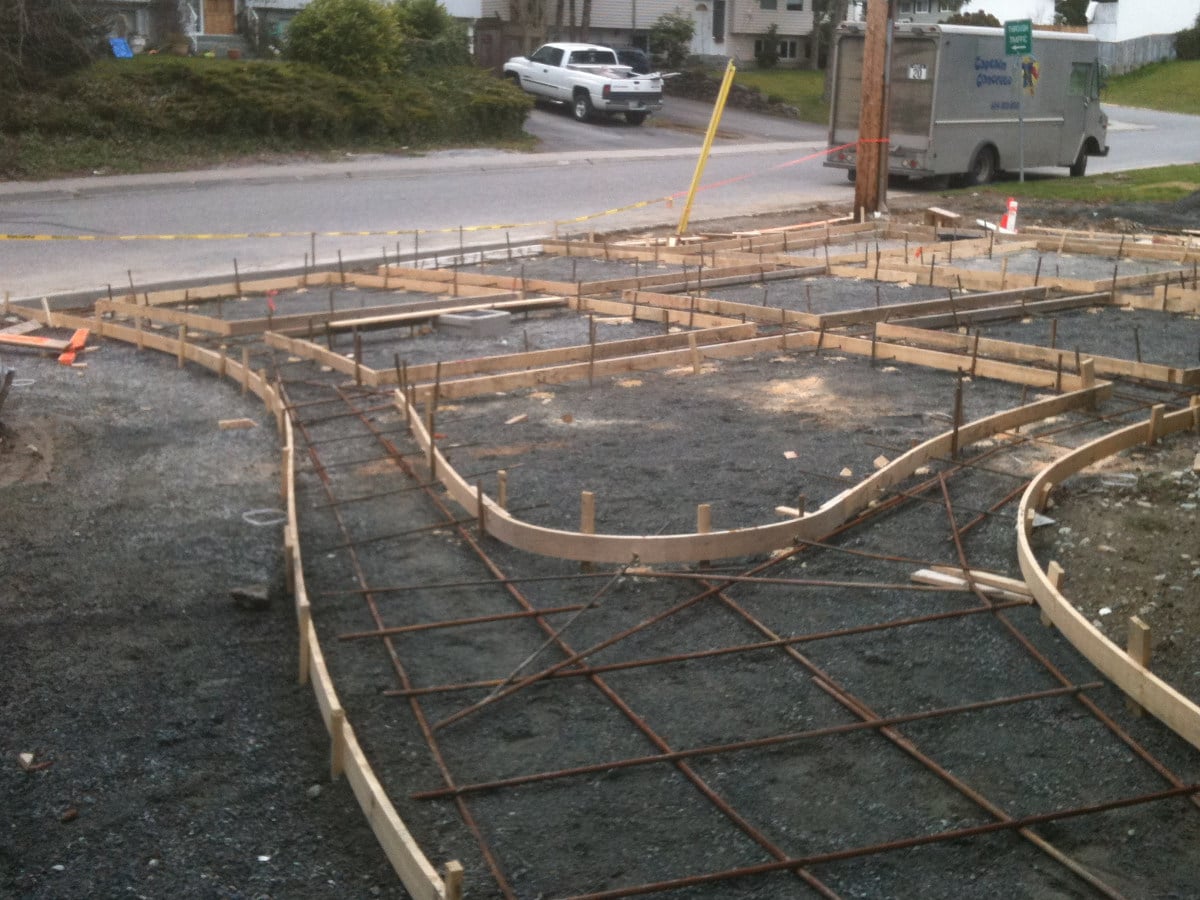 Placing Concrete Forms
We carefully measure and place forms with precision.
We have many power and hand tools to handle concrete placement needs including laser levels, power screed vibrators as well as levels, string lines, aluminum screeds for critical levels and slopes on many different projects. Accurate placement of forms and proper slopes are extremely important for proper drainage, particularly in the Fraser Valley with the amount of rain we get each year.
Concrete Sealing
We put on the finishing touches with protective concrete sealant products.
We also supply and apply several different base sealers to help protect and beautify many different types and finishes of concrete inside as well as outside. We also acid wash and/or pressure wash concrete to clean before sealing. Please note that at this time we do not offer concrete sealing as a stand-alone service.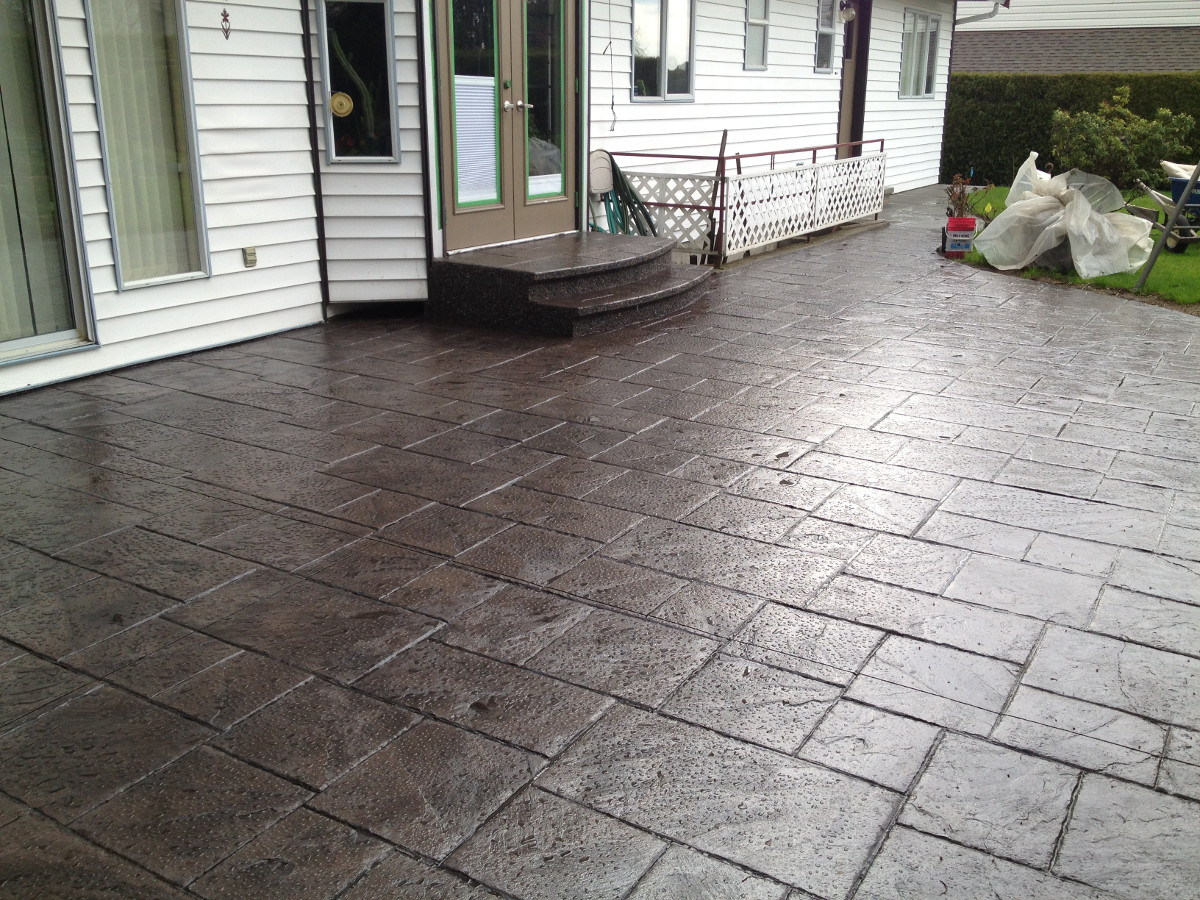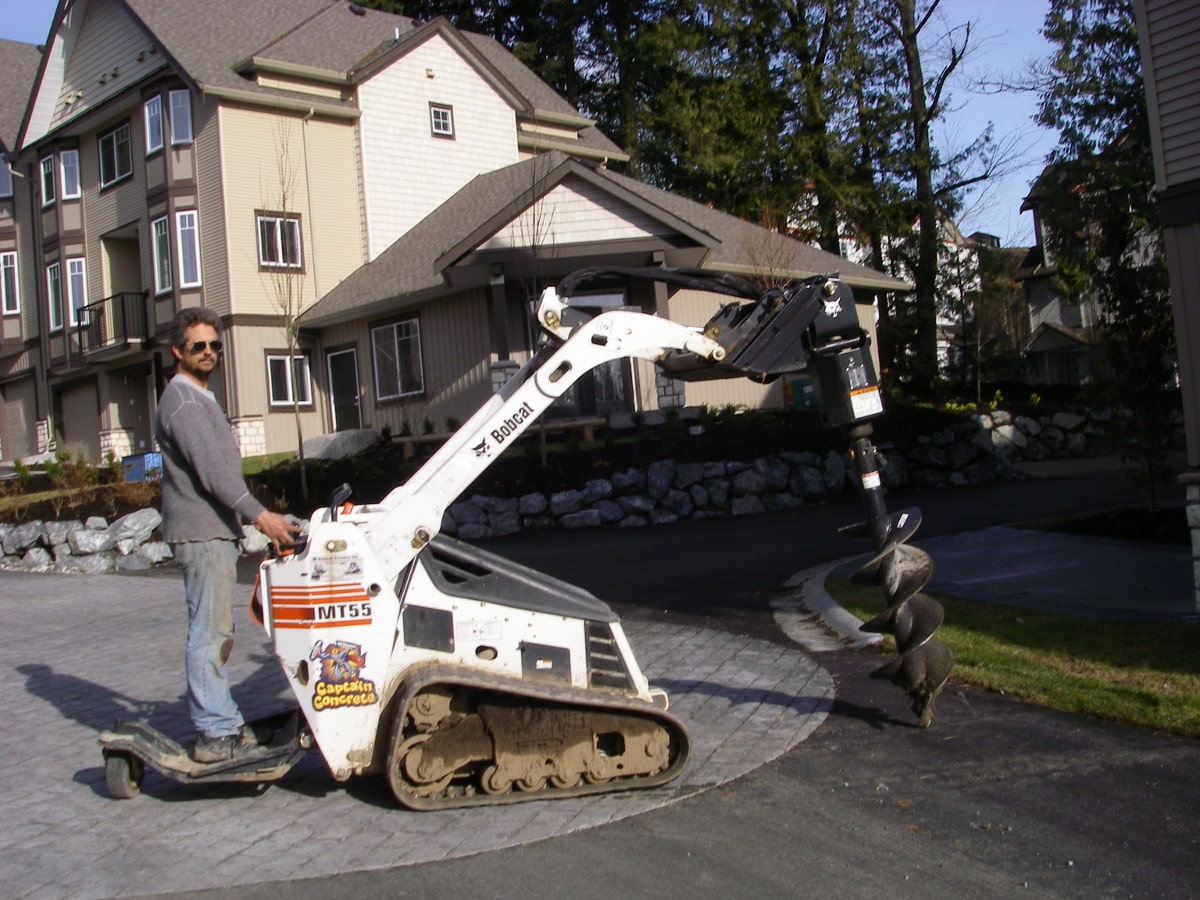 Our Concrete Equipment
We bring in the right equipment to do the job efficiently.
We have a large skid-steer bobcat, a 40″ mini hoe bobcat, a 36″ wide mini bobcat on tracks, a 46″ mini bobcat on tracks, as well as generators, compactors, dump trailer, and many other tools to handle removal, grading, leveling, material delivery even in tight areas or soft areas. We also have many sheets of 1″ thick plywood to put down to protect existing grass and landscaping.