CONCRETE CONTRACTORS SERVING CHILLIWACK & LOWER MAINLAND
Is it time to replace your old cracked driveway or are you dreaming of refinishing your backyard patio and pool deck? Perhaps you own a business and are in need of some commercial concrete work.
No matter what your concrete needs may be contact Captain Concrete to discuss your options. We offer both residential and commercial concrete services throughout Chilliwack, BC, along with old fashioned customer service that is hard to come by these days. Our family owned and operated concrete company specializes in concrete driveways, walkways, sidewalks, patios, pool decks, and much more. We also can provide a custom concrete solution for your unique project.
Our concrete services book up quickly, particularly in Spring and Summer months. If you are thinking of having your concrete driveway refinished or want to pour a new concrete patio contact us as soon as possible to get a free quote and reserve your job.
Our competitive rates and great testimonials make us the only call you need to make! Call 604-302-0020 or fill out our website contact form.
What Our Clients Say About Our Concrete Services

"I wanted to tell you how thrilled we are with the work you and your crew did our sidewalk. Your suggestions took our sidewalk from what would have been a pedestrian unimpressive addition to our yard to something that comes very close to a work of art. You took my very special requirements and incorporated them into a very unique addition to our landscape rather than just a utilitarian part of the setting. You even made other suggestions for the landscape and adjusted your forms as necessary. You truly went above and beyond which is very hard to find in contractors these days. You and your crew know what they're doing, you don't skip steps, take short cuts, skimp on materials, you are genuine professionals. You worked well with other workers on the site, and were courteous to my neighbours, and they noticed that. We're getting compliments all the time about our new red sidewalk. Its become a bit of a landmark. "Look for the house with the red curving sidewalk". I wouldn't hesitate to use your company again, Darrell, and I won't hesitate to recommend you to others. Good luck in the future."

~ G.
Our concrete contractors are always in high demand and our schedule books up quickly, especially through the Spring and Summer seasons. If you are needing our concrete services please contact us as soon as possible to get a free quote and reserve your job.
About Chilliwack BC
Located just East of our headquarters in Abbotsford, Chilliwack is home to 80,000 residents who enjoy living in close proximity to the great outdoors. This traditionally agricultural city has become more urban over the years as people from the Lower Mainland make the move to Chilliwack to find more affordable housing. New residential development in areas such as Promontory keep contractors like ourselves busy!
Our concrete contractors in Chilliwack, BC service the entire city, including Downtown Chilliwack, Rosedale, Greendale, Sardis, Yarrow, and Promontory.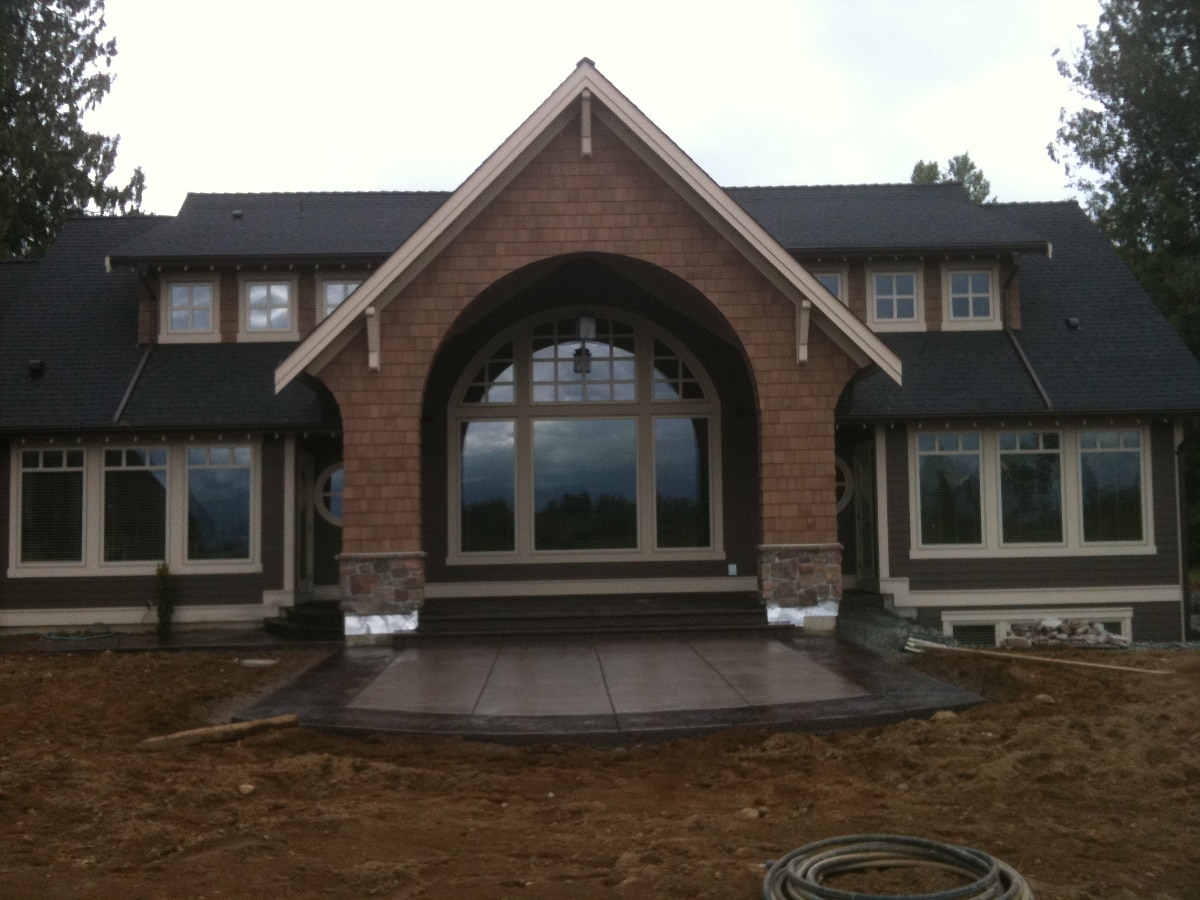 Concrete Services in Chilliwack
Our concrete contractors work with homeowners, contractors, strata managers, insurances, businesses, and warehouse owners throughout Chilliwack. Here is a just a small sample of how we can help:
Driveways
Patios
Pool Decks
Sidewalks and Walkways
Stairs
Retaining Walls
Parking Lots
Warehouses
Trench drains and catch basins
Call Our Chilliwack Concrete Contractors Today!
Our Chilliwack concrete contractors work year round, including Winter months, to meet the needs of all our customers. Call us today at 604-302-0020 or fill out a Quote Form on our website.
Want to learn more about our company first? View our A+ Rating with the Better Business Bureau or check out our membership profile with the Concrete Network.