From time to time our customers send us the greatest thank-you notes and we thought we would share a few with you…
Thank You Very Much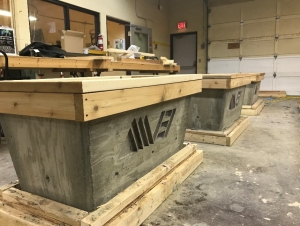 "Dear Captain Concrete,
Thank you very much for your generous donation to our school. It means a lot to our students and our staff. With your donation our students were able to learn about concrete forming, finishing, and pouring. The planters that our students constructed will be on display throughout the school campus."
Thank You,
Sean Owen
Applied Skills Instructor
Best Contractors

"We had our concrete driveway, patio and sidewalks done by Captain Concrete. They have been one of the best contractors to work with. Darrell and his team were dependable, reliable, honest, hardworking (even in the pouring rain) and pleasant to work with. They were flexible with our minor changes, additions, etc. Darrell communicated well with us. We are very satisfied with their work and highly recommend Darrell and his team to all who ask, pass by and admire the work done. Thanks again!"

~ L & E - Walnut Grove, BC
Project: Large exposed aggregate concrete pour (driveway, front walkway, sidewalk, back patio)
Thorough and Meticulous

July 2015: Well Done!! Many thanks to you and all of your crew for a job well done. The concrete looks great; and the layout is spectacular. We are already designing the gardens in our minds; and the rock areas will be the crowning touch to the whole presentation. Thanks again...

We've now used Darrell Rempel and his crew from Captain Concrete for four separate projects at our home on Eagle Mountain Drive in Abbotsford, over the past 12 years.  Darrell is very thorough and meticulous through each project, starting with on-site meetings to discuss the work to be done. Darrell listens, and offers his experienced opinions; and together, we've come up with solid plans that were executed to perfection.  Darrell's crew always pay attention to detail, and are very respectful of our property and our requests.  Our last project required removal of grass sod, pouring of concrete, and laying river rock over ground cloth throughout our entire front yard area.  Captain Concrete has all the equipment and expertise to satisfy a broad range of requirements.  All completed in a thoroughly professional manner.

May 2016: Another job well done.  The rocks look fabulous (I've washed them 5 times already to get the dust and mud off !!); and the crushed concrete fill in the frontage area looks great.  I've levelled it and tamped it 4 times already; and it held its own over the weekend with lots of foot traffic coming and going to the park.  Hardly any visible displacement at all!

Please thank your staff for their efforts.  We're always impressed with their work ethic; but equally as important, their respect for client and property.  It's always a pleasure to have your staff at the house.

~ V & J - Abbotsford, BC
Project: Eagle Mountain aggregate concrete sidewalk,  landscape rock, crushed oncrete fill.
Very Happy, Efficient Work

Thanks for the invoice and for the quick job. Yes the wife was fine with the job and the way it turned out. She now realizes that she has more room to visit with friends and not be crowded on the patio. Very happy. Thanks again for the efficient work, Captain Concrete will get my recommendation for anyone who asks, great job.

~ RM - Chilliwack, BC
Project: Chilliwack concrete patio.
On Schedule, No Hassles

Thanks for the great work, I appreciate the fact that it was on schedule and no hassles. It is a pleasure to do business with someone that keeps their word!Please pass on our thanks to your crew.

~ Terry - Langley, BC
Project: Wide aggregate concrete driveway with three car wide parking.
Job Well Done, Excellent Finished Product

I wish to take this opportunity to congratulate you for a job well done!!! You and your employees (Casey, Don, John and Mark) have been very easy to get along with while working on my home project and have provided me with an excellent finished product. Even the subcontractors that were used in the works were as professional and courteous as your employees were. The final cleanup before leaving the site was very well taken care of.

I hope that others will take note and contact you whenever they need concrete removal, forming, placing and finishing works. Thanks again for a project completed in a professional like manner.

~ R VB in Mission
Project: Concrete sidewalk replacement, addition to patio, landing and stairs, and foundation modifications to pillar lights and spray on protection.

Final Aggregate Finish Was Oustanding

A quick note to say that we appreciated being kept informed as you negotiated the weather to get the multiple pours done in a timely manner. All of the crew were a pleasure to have on site with Mark doing a great job accommodating our requests while doing the form work. The final aggregate finish was outstanding.  Job well done. Thank you.

~ G & L in Maple Ridge
Very Pleased With End Result

Thanks Darrell, YES we are very pleased with the end result, THANK-YOU & THANK-YOU. We also want to Thank-You for your patience and understanding through this process in the changes you helped with to gain the result we were after.

~ D H in Abbotsford
Above and Beyond

I wanted to tell you how thrilled we are with the work you and your crew did our sidewalk. Your suggestions took our sidewalk from what would have been a pedestrian unimpressive addition to our yard to something that comes very close to a work of art. You took my very special requirements and incorporated them into a very unique addition to our landscape rather than just a utilitarian part of the setting. You even made other suggestions for the landscape and adjusted your forms as necessary. You truly went above and beyond which is very hard to find in contractors these days. You and your crew know what they're doing, you don't skip steps, take short cuts, skimp on materials, you are genuine professionals. You worked well with other workers on the site, and were courteous to my neighbours, and they noticed that. We're getting compliments all the time about our new red sidewalk. Its become a bit of a landmark. "Look for the house with the red curving sidewalk". I wouldn't hesitate to use your company again, Darrell, and I won't hesitate to recommend you to others. Good luck in the future.

~ C
Polite, Professional and Diligent

We are very pleased with the concrete that Darrell and his crew poured for us. We had huge problems with our driveway and walkways, due to an improper concrete job that was originally done when our house was first built. Darrell and his crew were polite, professional and diligent and took pride in their work. Our new driveway and sidewalks look great and we also had done a new patio and a pad for a tool shed. They put in proper fill, rebar and high density concrete. It is built to last. We highly recommend Captain Concrete.

~ H
Extremely Happy With the Job!

Thank you so much. We are extremely happy with the job! My wife and mom are particularly happy to have met you. You have made quite the impression. Actually, my neighbors mom lives in Burnaby and needs work done on her driveway. She was very impressed with your work so I already gave her your contact. I also told my realtor (he is a family friend) about your work. He originally gave me another contact. I'm sure he'll put you in his contact list from now on.

~ DW
Pleased With Your Crew

Thank you so much Darrell, we are awaiting the rain to stop so we can fully enjoy our new patio. We are very pleased with how it turned out and I thank you for your patience as I agonized over color and style. We were very pleased with your crew and their professionalism. Thanks again!

~ D & L
Patio Exceed Expectations

We hired Captain Concrete to tear out an old existing concrete patio and replace it with a stamped patio and sidewalk and we couldn't be happier with the results! It was effortless – a one-stop project from planning, demolition, removal and construction. With our hectic schedule this was invaluable to us. The work they did for us far exceeded our expectations. The patio turned out beautifully! The staff were friendly, knowledgeable and readily available to answer my many questions along the way. We will definitely hire Captain Concrete in the future and wouldn't hesitate to recommend them to our family and friends.

~ BC and TC
Patient and Knowledgeable

We are very pleased with the concrete work completed by Captain Concrete on the patio at our townhouse. Darryl was very patient and knowledgeable during the planning stages of our project outlining several options available to us in addition to giving us previous work he completed for us to look at. The stamped concrete work was completed as agreed on in a professional manner to our total satisfaction. Any issues have been dealt with in an expedient manner with Darrell taking full ownership and pride in his work. We would not hesitate to recommend Darrell and Captain Concrete to anyone considering any type of concrete work."

~ BL and LL
Patio Exceed Expectations

I would highly recommend Captain Concrete for all your concrete needs. They were very efficient, friendly and skilled at their job. They performed numerous tasks at our place including walls, sidewalks and interior slabs at our place all with exceptional quality.

~ B.T., Ft. Langley
In Need of Our Concrete Services Too?
Give our concrete contractors a call today at 604-302-0020 today!