POURING CONCRETE IN WINTER
Did you know that we can pour concrete in winter?
Yes, pouring concrete is always better in warmer and drier months and many home homeowners think they should wait to repair their concrete driveway or pour a new concrete patio until Spring or Summer.
However, Vancouver and the Fraser Valley's mild winters make for a favorable environment to pour concrete in just about any month of the year.
Our concrete services book up quickly, particularly in Spring and Summer months. If you are thinking of having your concrete driveway refinished or want to pour a new concrete patio contact us as soon as possible to get a free quote and reserve your job.
Our competitive rates and great testimonials make us the only call you need to make! Call 604-302-0020 or fill out our website contact form.
What Our Clients Say About Our Concrete Services

"Thank you so much Darrell, we are awaiting the rain to stop so we can fully enjoy our new patio. We are very pleased with how it turned out and I thank you for your patience as I agonized over color and style. We were very pleased with your crew and their professionalism. Thanks again!"

~ D & L
Our concrete contractors are always in high demand and our schedule books up quickly, especially through the Spring and Summer seasons. If you are needing our concrete services please contact us as soon as possible to get a free quote and reserve your job.
This is why we offer our Concrete Contracting services year round! Our concrete removal, concrete forming and rebar services do not depend on the weather and can be done at any time. When it comes time to pouring concrete driveways, patios, walkways and other areas our only requirements are that there is no frost on the ground and ambient temperatures are around 5° Celsius. In cooler or damp weather we can use poly covering or insulated tarps to keep the concrete dry and warm for at least five days after pouring. The finished product looks just as great and is just as durable as if we poured the concrete in summer!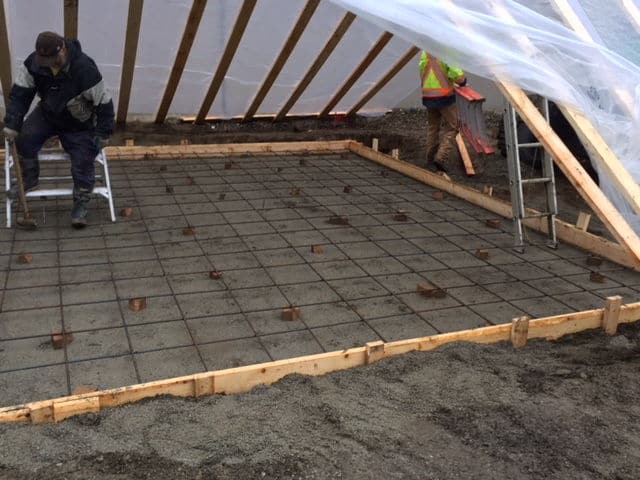 As Concrete Contractors in Abbotsford and the Fraser Valley, we like to keep working year round and offer savings of up to 15% to keep our crews busy. Because fewer people think about pouring concrete in cold weather we can also service our customers much faster than during our peak summer season.
Don't wait until Spring …
Request a FREE Quote for your next concrete project