Exposed aggregate is a popular concrete finish option for outside areas like driveways, sidewalks, patios, curbs or walls.
Similar to how granite or marble is transformed through polishing, the top layer of sand and cement is washed away to reveal the natural or manufactured aggregate below the surface. The concrete is first placed and then the outer layer or 'skin' of cement paste is removed. This exposes the course aggregate that is either mixed into the concrete before it is poured or seeded onto the surface after it is poured.
At Captain Concrete we like to recommend aggregate concrete for homes because it holds up well to the weather and is the most durable concrete option. Depending on traffic and personal preference exposed aggregate concrete should be sealed every few years.
We also think that exposed aggregate concrete looks the best especially when used in combination with other concrete finishes such as broomed and stamped concrete.
Exposed Aggregate Concrete Pros:
Durable
Resistant to heavy traffic
Resistant to extreme weather
Little maintenance required (sealing every few years and the occasional cleaning)
Endless color and texture options
Exposed Aggregate Concrete Cons:
Exposed aggregate concrete cost is approximately 25-30% more than regular broomed concrete
Below are just a few exposed aggregate concrete pictures from some of our most recent driveway and patio projects in Abbotsford.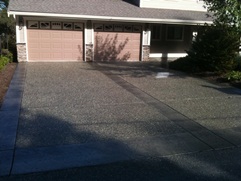 Sloped exposed aggregate concrete driveway with stamped concrete border.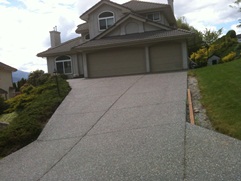 Extreme sloped exposed aggregate concrete driveway in Abbotsford.
Close up of exposed aggregate concrete with stamped concrete border.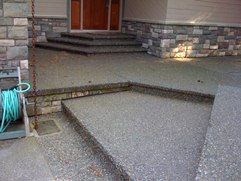 Exposed aggregate concrete steps and patio.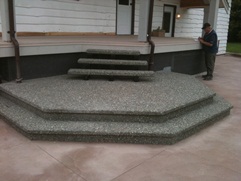 Exposed aggregate floating patio stairs and landing.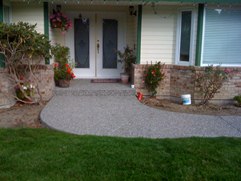 Aggregate concrete walkway with step to front door.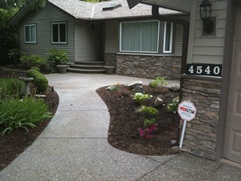 Long exposed aggregate concrete walkwayto front door.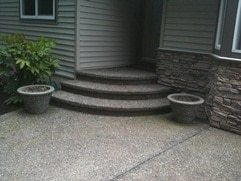 Curved aggregate concrete patio steps.
Seven exposed aggregate concrete steps to front door.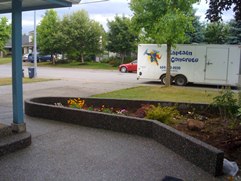 Exposed aggregate concrete wall and walkway.
Call Captain Concrete today at 604-302-0020 to find out how our Abbotsford concrete contractor will use exposed aggregate concrete for added durability and design!