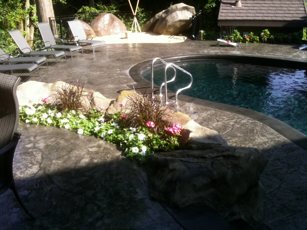 Stamped, broomed, and swirl finish concrete pool decks are right on trend in outdoor design.
Nothing is more inviting and appealing to the eye than a colored or textured surface surrounding the crisp blue waters of a backyard pool or hot tub. Add in a few lounge chairs, built in waterfall, BBQ, and firepit and you'll have the best backyard in the neighborhood!
Our concrete contractors have done several pool decks in the last few years. The concrete finish is not only decorative but it is also a durable, safe, and slip-resistant surface. Our concrete design experts can help integrate various concrete finishes including stamped and swirl to help break up the large surface area into smaller areas, as well as create the illusion of more expensive materials like slate, stone, or wood.
The latest concrete technologies and designs allow us to create a custom pool deck for a fraction of the cost of other finishes! When it comes to making a long-term investment in your backyard pool, call our concrete contractors with over 30 years' of experience.
Concrete Pool Deck Photo Gallery
Here are just a few examples of how Captain Concrete has used concrete for pool decks and backyard patios below.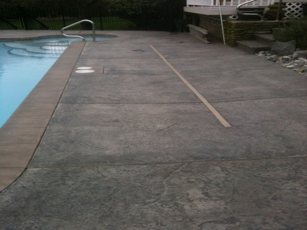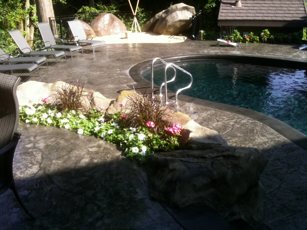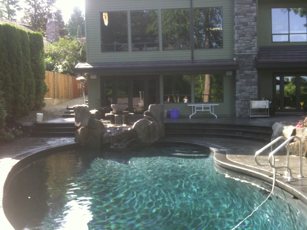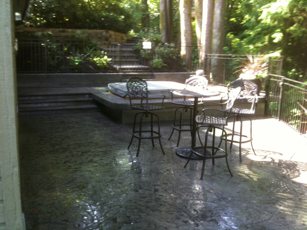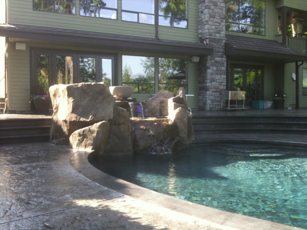 Call our Concrete Pool Deck Experts Today
Contact our concrete contractors for a free pool deck quote or call us at 604-302-0020.