Officially headquartered in Abbotsford BC, Captain Concrete services the Fraser Valley with start to finish residential and commercial concrete services.
Our family owned and operated full-service concrete company brings over 30 years' experience in the industry with the expertise, skills, and equipment needed to help you plan and design a complete solution for your home or business.
About Abbotsford BC

Originally founded in 1892, Abbotsford BC is traditionally made up of farmland and is actually the largest city in BC by area, measuring over 375 square kilometers. There are  over 130,000 residents living in Abbotsford, nestled between Langley, Mission, and Chilliwack. The Abbotsford cityscape is enriched by views of the Sumas Flats, Mt Baker, North Shore Mountains, and the Fraser River.
Homes in Abbotsford range in age from over a century old to brand new – making our concrete services valuable for both homeowners needing to redo their existing concrete driveway and walkways as well as builders requiring a new concrete driveway pour. The mild climate here in Abbotsford means that our concrete contractors can pour concrete almost year round! All we require is a temperature around 5° Celsius and no frost on the ground. We also come equipped with poly covering or insulated tarps to keep the fresh concrete dry and warm after pouring.
Our concrete contractors in Abbotsford service the entire city, including Eagle Mountain, Sumas Prairie, Bradner, Mt Lehman, Central Abbotsford, and Blueridge.
Abbotsford Concrete Specialists with 30+ Years' Experience!
Captain Concrete owner Darrell Rempel has over 30 years' experience working in the concrete industry. In 1998 he founded Captain Concrete with the purpose of providing professional and courteous contracting services to homeowners and businesses in Abbotsford, BC and throughout the rest of the Lower Mainland.
Over the years we've followed all the popular trends in concrete design as well as the new technology that allows for stronger concrete surfaces and creative finishes.
And because Abbotsford gets over 170 days of rain each year it is very important to consider proper drainage and slopes as well as durable, high traction concrete surfaces. We understand all the intricacies when it comes to designing and executing your new driveway or patio. We always ensure that your job is done correctly and set to last for years to come.
Abbotsford Concrete Services
Captain Concrete offers both commercial and residential concrete services including:
Driveways
Patios
Pool Decks
Sidewalks
Stairs
Retaining Walls
We also offer a wide range of decorative concrete finishes including broomed, exposed aggregate, stamped, colored, and more.
Our Concrete Work in Abbotsford
Here is just a small collection of projects by our concrete contractors in Abbotsford.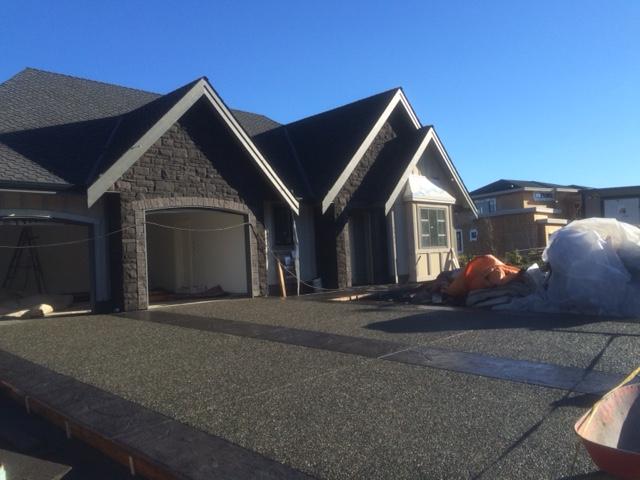 A work in progress - stamped concrete driveway on Eagle Mountain, Abbotsford BC.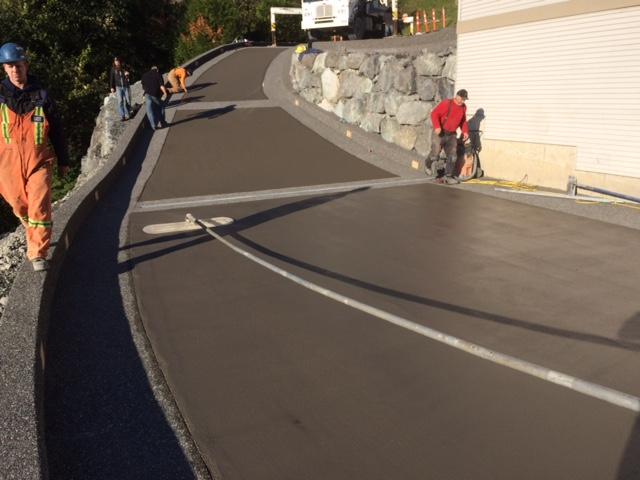 Our Abbotsford contractors at work on a steep driveway during a warm week in November.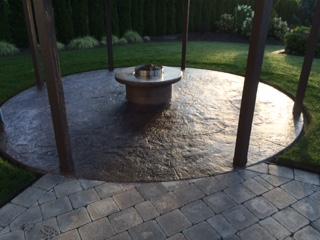 Our contractors poured this stamped concrete firepit and gazebo just in time for a family wedding. We later returned to repour the front driveway.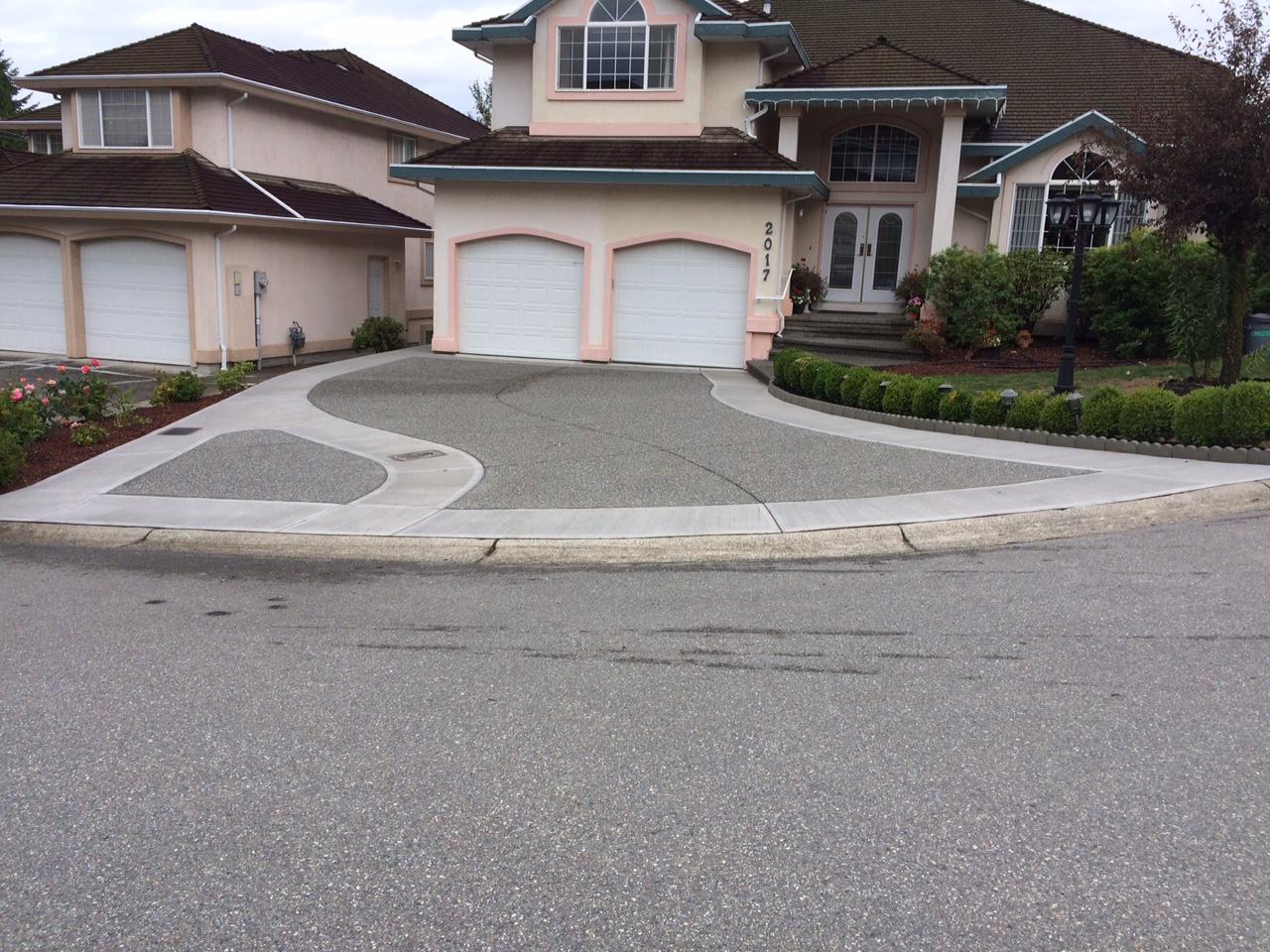 Our Abbotsford concrete contractors added additional parking to this driveway after a tree was removed on the front left corner.
Call our Abbotsford Concrete Contractors Today!
The Captain Concrete team of experienced concrete contractors are backed by an A+ rating with the Better Business Bureau. We are also members of the Concrete Network.
Contact our Abbotsford concrete contractors for a free quote or call us at 604-302-0020.