Colored concrete is a popular way to enhance any ordinary concrete driveway or patio. Colors are often added to decorative concrete projects to create a 100% unique finished product. You'll notice how the colors allow for contrast of shapes, designs, patterns and textures and are much more interesting than standard grey concrete. Whether you choose subtle earth tones or a bright and vibrant color palette, you'll love how colored concrete stands out from the rest.
At Captain Concrete we have a wide range of colors available to meet all your concrete needs including colored concrete driveways, colored concrete patios and even colored concrete pool decks. Colored concrete can be used in a number of applications including smooth, stamped or broomed finishes.
Want to change the look of your existing driveway or patio? We can add color to existing concrete by using acid stains, dyes and sealers. This is a relatively inexpensive way to update your front yard or back patio if the concrete is in good condition.
The cost for colored concrete and coloring existing concrete varies depending on your color choice and the method of application (whether added to the concrete or as a stain or dye). Generally the cost is comparable to exposed aggregate and can range upward depending on the application.
Below is a small sample of how colored concrete is used in some of our most recent projects.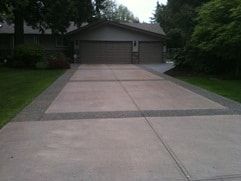 Color broom finish.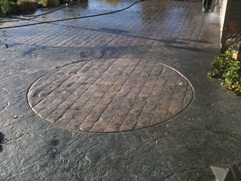 Contrasting colors and stamped.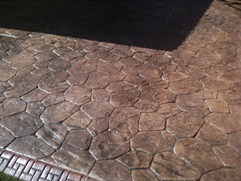 Colored stamped patio.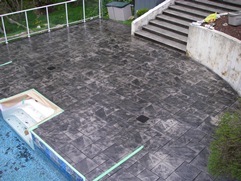 Large stamped pool deck.
Colored swirl patio and sidewalk.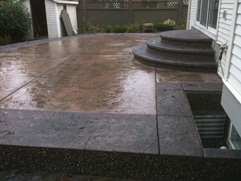 Contrasting colored and stamped patio.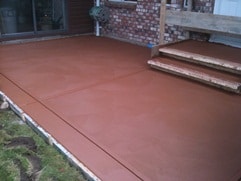 Colored, swirled entry, with smooth border.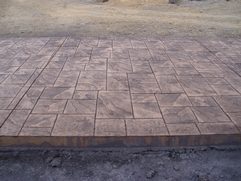 Colored entry to driveway, stamped.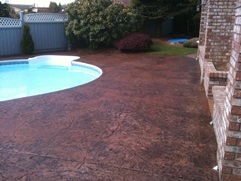 Colored stamped pool deck.
Call Captain Concrete today at 604-302-0020 to find out how our creative concrete contractors will incorporate color into your next project!