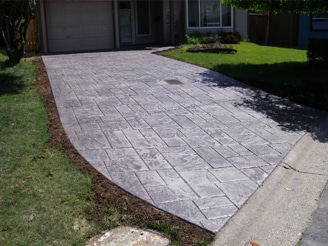 Did you know that there are several benefits of concrete paving over asphalt that you may want to consider when tackling your next paving project?
Concrete paving requires less maintenance than asphalt
Rigid concrete is more durable than asphalt
Concrete paving costs are less than asphalt when you consider maintenance costs over time
Paved concrete is lighter in color and naturally reflects light while asphalt is dark and absorbs more heat
Plus concrete allows you to be much more creative in your designs. There is a wide range of decorative concrete paving finishes that you can mix and match including colored, stamped, combination, and swirled concrete in order to create truly unique space.
Starting with the initial concrete paving design, our concrete paving does it all including grading, forming, placing, paving, and finishing. We're the only concrete paving company you will need to deal with from start to finish. We also work with local suppliers which means we can provide you with quick, efficient, and reasonable priced materials delivered on time.
Call Our Professional Paving and Concrete Contractors Today!
At Captain Concrete, we pride ourselves in handling all of our residential or commercial customer's concrete paving requirements from start to finish. Our concrete paving services include:
Concrete driveway paving
Concrete patio and deck paving
Concrete paving for pool decks
Stamped concrete paving
Decorative concrete paving
We are one of the most experienced concrete paving companies in Abbotsford with over 30 years' in the industry we bring together a number of paved concrete finishes and designs to provide our customers with a stunning finished product.
Captain Concrete paving contractors service the entire Fraser Valley including Abbotsford, Mission, Aldergrove, Surrey, and beyond.
Call us today at 604-302-0020 or fill out our quick Contact Form to get a no obligation quote for your paving project.