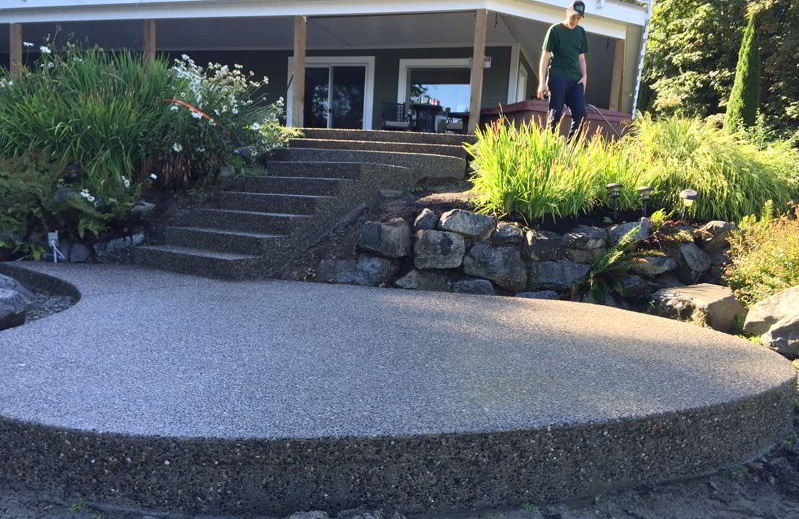 Each and every concrete patio is attractive in its own unique way. With some landscaping imagination a broomed or stamped concrete patio can greatly enhance the ambiance and functionality of your home's outdoor space!
At Captain Concrete we work with homeowners throughout Abbotsford and the Fraser Valley to create a usable outdoor patio space perfect for entertaining. We'll help you create the space you've always dreamed of with easy to maintain colored, stamped, textured or combination concrete! You decide and we'll help you create your dream space.
We are a complete concrete patio contractor which means we help with:
Concrete patio design
Demolition and disposal of current concrete patio
Concrete prep, forming, cutting, and placing work
Concrete Patio Benefits
There are several benefits of a concrete patio for your home when compared to a wood, brick or natural stone patio:
Concrete patios offer greater design versatility
Concrete patios are very durable
Concrete patios are very low maintenance.
Concrete patios typically cost less than other outdoor flooring such as brick or natural stone.
Concrete patios are less labour intensive to install.
Concrete patios can be any size or shape.
Concrete patios stand up to harsh weather conditions.
Concrete patios don't warp or rot like wood patios
Concrete patios don't let grass and weeds grow through the surface like paving or concrete patio slabs.
Concrete Patio Designs
Head over to Houzz or Pinterest and you'll be bombarded with concrete patio designs and ideas you can bring to us to make a reality. Some of our favorite poured concrete patio ideas include using cobblestone stamped concrete, incorporating a concrete fire pit, benches or retaining wall into the design, as well as using a combination of concrete finishes to create distinct functional spaces for the patio.
Here are some pictures of concrete patios in Abbotsford and the Fraser Valley by Captain Concrete: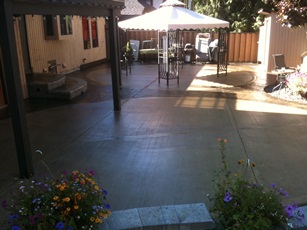 Concrete patio with broomed centers and stamped border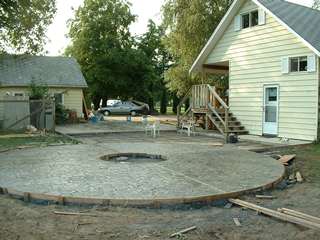 Large stamped concrete patio with round firepit center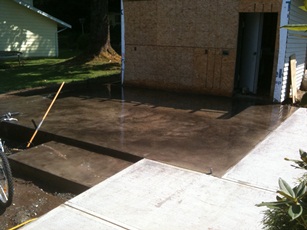 Pour and acid stain rear patio for entertaining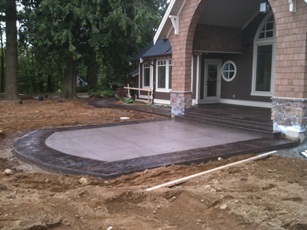 Large broomed concrete patio with stamped border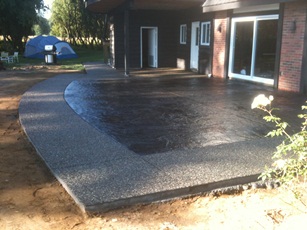 Granite texture stamped concrete patio with aggregate border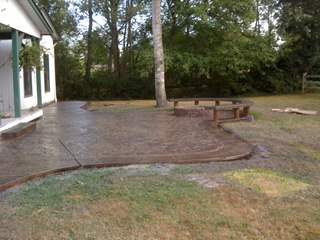 Large stamped concrete patio and sidewalk with firepit and raised bench seating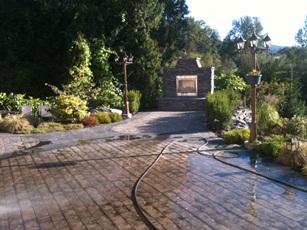 Large concrete patio with different stamped patterns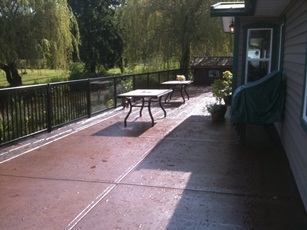 Large colored swirl patio with stamped border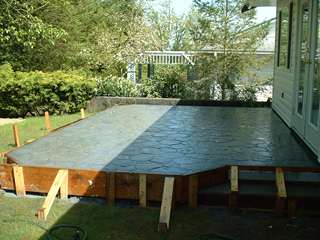 Raised stamped patio with random stone pattern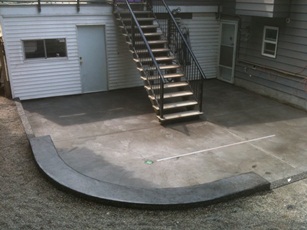 Colored Swirl finished patio with exposed retaining walls and raised seating
Concrete Patio Cost
For a 500 square foot removal and replacement project, the cost of a concrete patio can range anywhere from $8.00 to $17.00 per square foot depending on the design and selected concrete finish.
Call Our Concrete Contractors Today!
Captain Concrete is experienced in offering a wide range of concrete services such as concrete stamping, concrete driveways, concrete patios, and more. Our services are offered in Abbotsford, Fraser Valley, Mission, Aldergrove, Surrey and other areas.
Call us at 604-302-0020 or fill out our Contact Form to get your own no obligation Concrete Patio Quote.