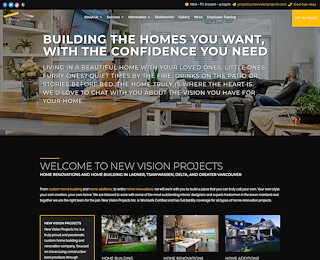 New Vision Projects is a top-rated renovation company and a custom home builder in South Surrey. We'll make your dream home become a reality by sticking to your budget. We follow a comprehensive design/build process that reflects the client's aspirations to create a home that best suits their needs.
How do I find a custom home builder?
Whether it's a kitchen renovation or a custom build project, you're investing a lot of money. The goal here should be to find a team that respects your budget and has exemplary design/build solutions to offer within that budget. Find a builder who has a good word of mouth around your neighborhood. Visit your neighbors' homes to get an idea of the builder's expertise.
Talk to some of the previous customers of the builder and enquire if the builders are punctual with the work, their working pattern, and timelines taken to complete a project, what is the cost of labor and are there any hidden costs involved. Find a builder working on a project near you or ask your home designer or building inspector to refer you some names of credible builders.
How much does a custom home builder cost?
A 2017 survey showed that the average cost of building a home is $110 – 120 per square foot. A custom home can cost anywhere between $450000 to over $1 million. The cost of building a home depends on the size, location, the duration of the project, and the customizations you want. Discuss your budget limitations with your builder and do not compromise on it.
Don't be enticed by designs that you cannot afford. Try to work with your builder to create a home design that best suits your taste, needs, and your budget. Additional customizations can increase the cost of your custom-home, but watch out for unexpected costs that can take you by surprise. We are among the most trusted custom home builder in South Surrey to offer budget-friendly solutions.
Our exemplary design solutions for budget homes
One of the cost-effective options that we use for designing the most beautiful, luxurious homes is building two-story homes to double the floor area and cut down the cost of foundation and roof by half. We recommend a budget-efficient square or rectangle shaped houses, while we'll amplify the look by adding a beautiful front porch and by painting the home in warm, appealing colors.
We work to reduce the cost of running plumbing pipelines all over the house by centralizing all the pipes in one place that is close to your kitchen, bathrooms, and laundry area. We work on building properly sealed and insulted houses to help you with saving money on energy.
We build small budget homes with a view to the outdoors that adds a bigger feel to them. Your outdoors will look heavenly by creating latticework, vines, patches of flowers, and a small fountain. To build a quality, unique, budget home, contact New Vision Projects, the finest custom home builder in south Surrey.